Fearless Hearts and a Phoenix Tattoo
A large, old oak tree used to grow outside my bedroom window. A few weeks ago, it fell during the bluster of Hurricane Delta. The tree crashed down while I was less than 20 feet away, yet I slept through the fall, none the wiser.
(If a tree falls outside my room and I don't hear it, does it make a sound?)
The next morning, I realized it had fallen away from the house and onto the road, facing the other direction. Since it was blocking traffic, my stepdad and brother-in-law cleared it early that morning. It was now in my yard, dead.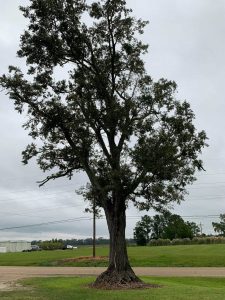 My mom called me later and said something I hadn't really thought about: "I'm so glad it didn't fall the other way!"
"Me, too," I said, taken aback. I hadn't realized how dangerous the situation had been. A change in direction of the wind could have had serious consequences while I lay in bed.
"I'm glad I didn't die, either," I said.
***
A grad school friend once explained to me that there are two symbols when facing the end of life.
As we sat in the living room of my apartment, my friend said he was eager to get a new tattoo. Cold beers in hand, we chatted while the sun was setting, casting a bright light through the flimsy blinds. Sunsets always seem brighter that time of year, just before winter.
He was thinking of getting a large Grim Reaper tattoo. The bony hand and sharp scythe seen in some portrayals of the Grim Reaper are constant reminders of the inescapable nature of death. Like most of us, he hadn't thought about death much in his younger years, but after serving a tour in Iraq with the U.S. Army, he began to see death's finality everywhere.
I could relate. Although I'm not a military veteran, the progression of Friedreich's ataxia has prematurely familiarized me with death.
Although I was familiar with its sober reality, I also knew the character of my buddy. He was a fighter, not someone constantly on the run from a skeleton in a hooded robe. Something about him getting such a grim tattoo didn't seem accurate. He didn't fear the threat, but rather was made stronger by facing it.
I asked him to consider a tattoo of a phoenix instead. The fiery feathers of rebirth were more representative of his identity than the chilly apparition of death.
***
Physical instability is one of the main symptoms of Friedreich's ataxia. I lose my balance easily, sometimes while transferring from my wheelchair, and sometimes while just sitting. Sneezing is always unpredictable. I often end up bruising my forehead or falling out of my wheelchair afterward. Clumsiness is often the first symptom of FA, and it never goes away.
I look out my window at the stump where the oak tree once stood, felled by a storm, not a sneeze.
Though that oak tree isn't alive anymore, I am grateful I am. In fact, I'll be turning 35 soon. When I was a newly diagnosed teenager, I didn't think I'd survive past 34.
Still, the autumn sun shines brightly and I cherish the colors of fall outside. The color of embers. The color of a phoenix.
I think of my old friend from grad school. I haven't seen him in over a decade. He is now married with two children, a real adult life.
Although it's been a while, I know that under his phoenix tattoo there beats a fearless heart.
As I skirt death and approach my birthday this fall, my heart beats fearlessly, too.
***
Friedreich's Ataxia News is strictly a news and information website about the disease. It does not provide medical advice, diagnosis or treatment. This content is not intended to be a substitute for professional medical advice, diagnosis, or treatment. Always seek the advice of your physician or another qualified health provider with any questions you may have regarding a medical condition. Never disregard professional medical advice or delay in seeking it because of something you have read on this website.The opinions expressed in this column are not those of Friedreich's Ataxia News or its parent company, BioNews, and are intended to spark discussion about issues pertaining to Friedreich's ataxia.