Webinar tackles unique challenges of FA and strategies for success
Skyclarys, 1st approved treatment for FA, also hot topic of panel discussion
The challenges of living with Friedreich's ataxia (FA), strategies for success, and the recent "game-changing" approval of Skyclarys (omaveloxolone) in the U.S. were the hot topics of a live webinar hosted by Friedreich's Ataxia News on Nov. 1.
During the panel discussion, "Beyond the Friedreich's Ataxia Basics," experts and patient advocates covered a range of issues including the journey to diagnosis, available treatments, day-to-day disease management, and tips related to finance. 
The event was moderated by Esther and Andrew Schorr, co-founders of the advocacy group Patient Power. Panelists included Kendall Harvey and Matthew Lafleur, both of whom have FA and write columns for Friedreich's Ataxia News, alongside David Lynch, MD, PhD, who has been studying the rare neurodegenerative disease for more than two decades and is currently director of the Friedreich's Ataxia Program at Children's Hospital of Philadelphia. 
Journey to diagnosis involves many different tests
Kicking off the webinar, the panelists talked about the process of diagnosing FA. Most patients begin to seek medical attention because they start experiencing neurological symptoms, like problems with coordination or frequent falls, Lynch said.
That's what happened for Lafleur, who was diagnosed in 1994 when he was in fourth grade, and Harvey, who was diagnosed in 2013 at age 25.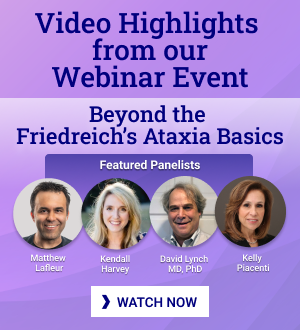 "When I was playing sports … one day I was taken off to the side, and told that I was getting behind the other kids in things like running and balance," said Lafleur, who writes the column Little Victories for Friedreich's Ataxia News and is associate director of patient engagement for BioNews, the site's parent company. 
Harvey, who writes the column My Darling Disability, similarly recalled first noticing symptoms while playing sports: "I was playing in a social sand volleyball league, and just kind of noticed I was falling a lot. … Like, I'd be going for a ball, it'd seem like I was diving but I wasn't," she said.
Both had to go through tests and referrals to different doctors before the possibility of FA was considered. It's fairly common for patients to undergo a lot of different tests to rule out other conditions and identify signs that indicate FA before a genetic test is taken to diagnose the disorder conclusively. 
"Genetic testing is essentially 100% sensitive and 100% specific, if done correctly," Lynch said.
When Harvey and Lafleur were diagnosed, no specific treatments for FA were available. Both columnists reflected that, at the time, being told they had an untreatable disease was a heavy emotional blow. 
"That was really devastating, especially for a young kid," Lafleur said. 
For Harvey as well, "it was really overwhelming to be handed a diagnosis that there was no hope to combat."
A 'game-changing' new treatment: Skyclarys
Earlier this year, FA for the first time became a treatable disease when the U.S. Food and Drug Administration (FDA) approved the first FA treatment, Skyclarys, for patients 16 and older. The simple fact that a treatment is available may help facilitate faster diagnoses of FA in the future, since clinicians tend to prioritize testing for conditions that are treatable, Lynch said.
Lafleur said that finally having a treatment available, nearly three decades after his diagnosis, was "game-changing." 
"It looks like a little bit of hope," he said.
The news also brought hope for Harvey, who participated in one of the clinical trials that formed the basis for the FDA's approval. Harvey started in a yearlong placebo-controlled trial in 2018, and she's officially been taking Skyclarys as part of an open-label extension study since 2019. 
"I'm celebrating the success of the trial and patting my fellow clinical trial participants on the back, and I'm full of gratitude and excitement," Harvey said.
Data from clinical trials suggest that, on average, patients given Skyclarys tend to experience a modest easing of neurological disability in the first year or so of treatment. 
"Think about, on average, being one year back in time as opposed to one year progressed in time," Lynch said. "That's the average response within the clinical trial. Now some people do better than that; some people don't do as well as that. It's the natural, normal human variability within any sort of treatment."
Even in patients who respond well to the treatment, the effects of Skyclarys are often subtle and hard to notice, Lynch said.
"You don't snap your fingers and all of a sudden you're better," he said. "The maximum benefit occurs nine months to one year in, so sometimes you may actually improve and you won't even know it because it crept up on you so slowly." 
Skyclarys may help to slow disease progression but is not a cure
Although available data have suggested Skyclarys may help to slow the progression of FA, Lynch stressed that the treatment is not a cure. In clinical trials, most patients continued to experience worsening disability after a few years on Skyclarys. 
"Since my participation in the trial began, my original symptoms have progressed," Harvey said, noting in her experience, it's been hard to tell subjectively if the treatment is working because she can't compare what her disease looks like now to what it might have looked like if she weren't on Skyclarys.
All of the panelists agreed that, while the approval of Skyclarys represents a significant milestone for the FA community, there's still an urgent need for further research to identify new treatments. 
"We're so excited that we moved from zero treatments to one treatment, so now we have to get from one to two and continue going from there," Lafleur said.
The panelists also noted more work needs to be done to expand access to Skyclarys, including potentially making the treatment available for patients younger than 16.
More research is needed to figure out the optimal dosage of Skyclarys for younger people, because in older patients, the approved dose of Skyclarys (150 mg/day) showed beneficial effects, but higher and lower doses were ineffective, said Lynch, who doesn't recommend prescribing Skyclarys off-label for FA patients younger than 16 until clear dosage data for children is available.
"I would not suggest that people seek off-label prescriptions, and I do not write them myself because … you're likely to be at the wrong dose," he said. 
Lynch expects studies of the therapy in younger children will be conducted in the near future, but it's currently impossible to say when results might be available. 
Importance of support from friends and family
Discussion then moved to strategies for managing FA in day-to-day life. In some cases, this requires practical steps and planning. For example, Harvey and her husband spent months searching for a one-story house that would be easier for her to navigate, and both Harvey and Lafleur participate in regular physical therapy to help maintain their motor function.
More broadly, the panelists said it's important to remember FA does not define a person's identity, and people with FA are capable of living rich, full lives by finding things they can do and that they enjoy doing. Many of Lynch's FA patients have fulfilling careers as accountants, nurses, social workers, and teachers. 
"I know four individuals [with FA] who are graduate students in science departments around the country. I'm looking for one who wants to become a neurologist because I'll be retiring at some point … and I need someone to take over," he joked. 
Harvey, who worked in marketing before leaving to become a full-time stay-at-home mom, said she finds the most fulfillment spending time with her 9-year-old son and 6-year-old daughter.
"Just being a part of their lives is honestly what I love doing, and it lights me up. It's what I enjoy filling my time with," she said.  
Harvey and Lafleur said connecting with family and friends is a vital part of managing life with FA, for the practical realities of dealing with the disease and for their mental health. 
"I'm pretty negative to myself. I think everybody is," Lafleur said. "So it's important not to live with that being the only voice. To have someone, if it's a family member, if it's a close friend, someone to turn to and talk to … maybe they won't be as hard on you as you would be on yourself, so I think that it's so important to maintain those kinds of relationships in your life." 
The panelists also highlighted the importance of asking for help, whether for physical accommodations or assistance with mental health problems such as depression. 
"Depression, a true psychiatric illness, is a part of many neurodegenerative disorders, and it's okay to admit it and talk to your doctor about medical intervention. That's the first step," Lynch said. 
Financial planning for the long term
In the final portion of the webinar, Kelly Piacenti, who is head of special care planning at the insurance company MassMutual, joined the panel to offer some financial advice for those living with FA. She noted assistance is available from governments for people with disabilities such as FA, and encouraged patients and families to be proactive about seeking out programs they may be eligible for. 
"You can have a conversation with the Social Security office. They do a lot of the meetings now on Zoom, so you don't have to drag in there and wait in lines like they used to have," she said. "You can set up an appointment, and it's definitely much more friendly to our families, so you can speak with them and see what you are eligible for."
Specific benefits will depend on each individual's situation, such as place of residence, employment status, and income. People who have notable financial assets may also be eligible for government assistance, Piacenti said, so it might be helpful to check. 
Lafleur agreed, noting that assistance from his home state of Louisiana helped him get through college and pay for his wheelchairs.
"When I first was looking into going to college, I did a quick internet search on disability services in my state, Louisiana, and I was surprised at how much even in my little state was available to me," he said. "So I encourage everybody to look up disability services in your state or in your country and [see] what's available that way, because I think that was a big help for me in going to college and getting transportation and things like that, that I didn't know was available to me."
Nonprofit organizations can also be a helpful source of financial support and other types of assistance, Piacenti noted. Certain financial tools designed to support people with disabilities, such as special needs trusts, can be used to leave money to help people with disabilities support their quality of life, without them losing eligibility for other benefits.
In addition, Biogen, the company that sells Skyclarys, offers a program called REACH to assist people with FA in accessing the medication, which may include financial support in some cases.
Beyond financials, Piacenti stressed the importance of having long-term plans in place that are explicitly communicated with others, preferably in legally binding written form. Having concrete plans has been critical in her own life caring for her disabled son, she said.
"It's not just about the money and how to fund things. It's about what if something happens to me with my son? It was always, who's going to step in? Who's going to do the things that I do for him? Or what's my plan if I'm not here?" Piacenti said. 
"It's a difficult conversation, but it's a conversation, whether you have a disability or not, that we should be having as parents and caregivers," she added. 
The webinar was supported by Biogen, the company that recently acquired Reata Pharmaceuticals, which developed Skyclarys.
Video highlights from the live event are available on-demand on the webinar page.