My Little Victories Are Enough for Me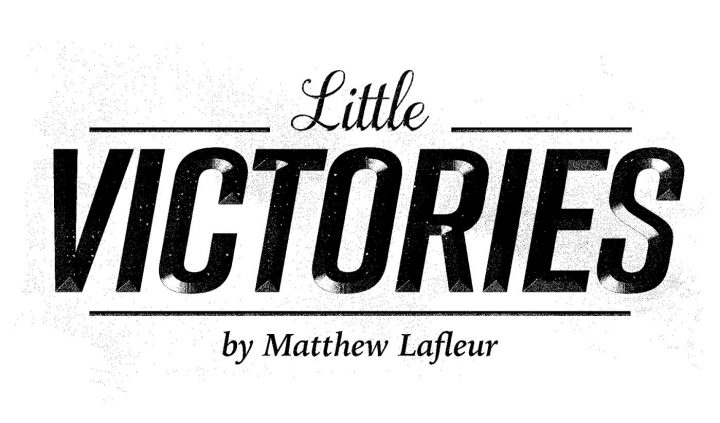 Out of curiosity, I ran an online search of "Kyle Bryant," one of my best friends. I call him the poster boy for Friedreich's ataxia (FA), and the search results seem to agree. I scrolled past links to his employee page at the Friedreich's Ataxia Research Alliance, his social media accounts, his autobiography, the documentary in which he co-starred with my fellow columnist Sean Baumstark, their podcast, and his TEDx talk.
So many impressive results. Not bad for a guy with FA. Not bad for anyone.
I previously wrote about how Kyle inspired me to do two things I hadn't thought I could: get a trike and become involved in the FA community.
"Dude," Kyle said to me on the phone a few weeks ago. "I got a new scooter." Then he sent me a picture of his sleek power wheelchair.
"What?" I shouted into the phone. "That is so awesome!"
 I was stoked for my friend, and I'm sure he could hear my genuine happiness over the phone.
He might not have registered my surprise. 
During college, I relied on a power wheelchair to get across campus. I loved the independence that it gave me, but didn't appreciate the lack of effort on my part to be mobile. I wanted to get around using my own efforts, instead of pushing the joystick on a wheelchair.
I promised myself that after college I would stick with a manual chair. But as my disorder continued to progress, I became more reliant on others to push me.
In my foolishness, I sacrificed independence for pride.
But after that phone call, I started the process of getting a power wheelchair, or "scooter."
I needed Kyle's nudge. He said it was OK.
***
Should I be jealous of Kyle? Do his remarkable achievements reflect on my own (lack of) accomplishments?
No way, I decide, as I type my name into Google.
I discovered that I share a name with the current football coach of the Green Bay Packers. (Fun fact: Coach Matt LaFleur and I also share a birthday, a few years apart. Crazy, right?)
I scrolled down through many search results about coach Matt LaFleur. Then on the second page of results, I spot a link to my column, "Little Victories."
OK, I'll take it.
I'm no Kyle Bryant; I'm just Matt.
And that's enough for me.
After all, I am standing on the shoulders of a giant.
***
Friedreich's Ataxia News is strictly a news and information website about the disease. It does not provide medical advice, diagnosis, or treatment. This content is not intended to be a substitute for professional medical advice, diagnosis, or treatment. Always seek the advice of your physician or another qualified health provider with any questions you may have regarding a medical condition. Never disregard professional medical advice or delay in seeking it because of something you have read on this website.