A Vision Test Helped Me See the Need for Self-care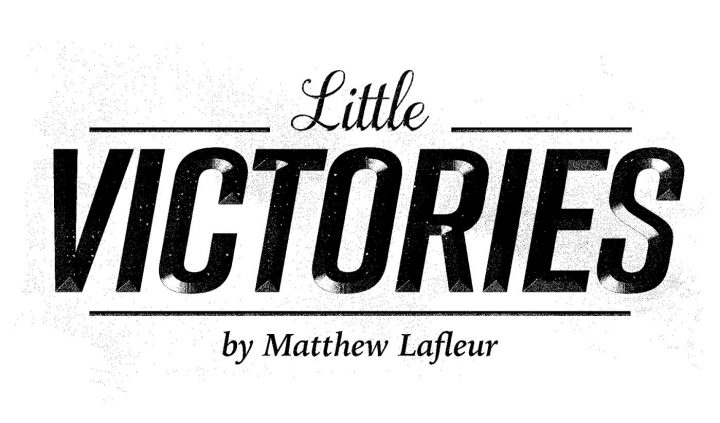 "Look at the mirror on the wall. Can you tell me what letters you see?"
I sat there in the darkened optometrist's office with my face pressed forward into a strange head-shaped contraption. I looked up at the mirror and saw the reflection of a bright white square with a row of six letters in black in its center.
Or, at least the black letters should have been there. But the truth was the white square looked empty.
"I can't see any letters," I admitted to the nurse practitioner.
Maybe this is a test to see if people admit to seeing letters when nothing is there, I desperately thought.
"OK," she said, then changed the lens I was looking through. "How about now?"
I looked in the mirror again.
"Nope," I chuckled."Still nothing."
We repeated the process nine times. I tried moving my face to different angles but still couldn't see any letters most of the time. Last week, when I made an appointment with the optometrist, I figured I'd fail my eye test, but not this badly.
The situation was pretty funny. As much as I tried to see humor in my blind guesses, part of me was aggravated at myself for doing so badly. When we finally reached the end of the tests, the nurse practitioner turned on the lights in the exam room.
"Wow," she said, bemused and slightly concerned at my poor performance.
"I told you my eyesight was bad," I said, trying to sink even lower in my wheelchair cushion.
This was my first visit to an eye doctor since high school. I was nearsighted back then, meaning I could see things in front of me clearly, like books and computer screens, but not far away, such as reading the chalkboard or recognizing someone's face at a distance.
Although it was aggravating, I tried to adapt as best as I could. I taught myself to partially memorize what teachers said as I took notes instead of jotting down what was written on the chalkboard. I learned to keep my head down in public, avoiding gazing at faraway people or objects because I couldn't recognize them anyway.
Learning to adapt was familiar to me. The budding symptoms of Friedreich's ataxia increasingly had affected me throughout high school. I knew where to stand in the hallways, and I leaned against the walls for support when moving from class to class. I planned when I would exchange textbooks at my locker so the heavy ones wouldn't throw off my frail sense of balance. I also learned to never have soup for lunch in the cafeteria. Carrying a bowl of soup on a tray was not one of my talents.
I was already anxious trying to maneuver the world with my weakening balance and coordination caused by FA, so worrying about my eyesight was never a priority for me. I ignored getting my eyesight checked for a couple of decades, resulting in an unenthused "Wow" and a prescription for glasses.
When facing a rare disorder like FA, we can easily forget simple self-care. I had ignored my poor vision much like I had ignored my difficulty hearing in large crowds, as I previously explained.
Is FA the cause of my difficulty seeing and hearing? Maybe, but that's not the point.
If daily functioning becomes tough, acts like seeing, hearing, and speaking clearly, eating nutritiously, and making time for physical exercise become less urgent. We often overlook improving our living because we are so focused on surviving.
I'm learning that we have to treat ourselves as human. All of our activities, even those not directly affected by FA, matter.
You deserve to do more than just adapt, to just get by. Maybe that looks like using a wheelchair or walker to get around more easily. Maybe that looks like getting a hearing aid to listen better.
In my case, that looks like wearing a set of prescription lenses.
We are worthy.
I see that now.
***
Friedreich's Ataxia News is strictly a news and information website about the disease. It does not provide medical advice, diagnosis or treatment. This content is not intended to be a substitute for professional medical advice, diagnosis, or treatment. Always seek the advice of your physician or another qualified health provider with any questions you may have regarding a medical condition. Never disregard professional medical advice or delay in seeking it because of something you have read on this website.The opinions expressed in this column are not those of Friedreich's Ataxia News or its parent company, BioNews Services, and are intended to spark discussion about issues pertaining to Friedreich's ataxia.