Now Is All We Have, and Sometimes That's Enough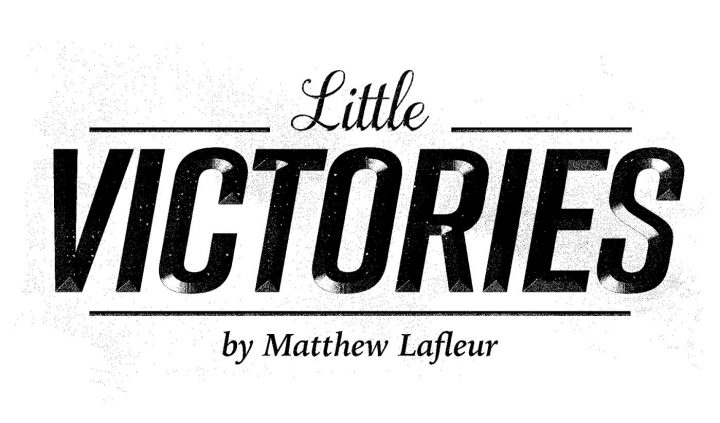 The clanky metallic sounds are what I remember most. 
Pap-pap!
And then a small sound of straining as someone's body weight shifts as they are dragged forward.
Whenever that sound echoed down the high school hallways, I knew what it meant. Someone at my school was lurching forward slowly, using crutches. 
At school, crutches weren't uncommon, especially for teenagers. Most of us constantly tested our independence at that age, which often led to heartbreak, fights with parental figures, damaged property, or damaged selves.
I'd always get a sickening, shameful feeling when a classmate used crutches.
I was jealous.
Weird, right?
I was jealous of the way people on crutches suddenly had an excuse to avoid carrying their heavy books, and how they were given an excuse to be a little late to class. I was even jealous of the sympathy other kids suddenly showed them.

These are all extremely petty reasons to be jealous. Looking back on it now, I see a deeper reason for my envy, why crutches made me both uncomfortable and utterly depressed. I couldn't articulate it then, but I can now.
Crutches were almost always temporary, an inconvenient pit stop. Crutches were a symbol that most handicaps can be fixed.
I wish I could be fixed.
Getting better was not in my future. No crutches would help.
For a long time, that made me feel hopeless. But I am learning that even though the future is unclear, that is no reason to stop trying to improve.
***
Like most children in high school, I often ignored the present and eagerly anticipated the future. I was focused on being fulfilled, successful, loved, and content. I didn't worry about how I'd get there, I just assumed that everything would work out for me. Somehow. 
Being diagnosed with Friedreich's ataxia suddenly made my future blurry. I was now terrified of what tomorrow could bring.
Without a clear future to look forward to, I felt totally hopeless. Can I still lead a good life?
To this day, I still haven't quite figured out how to live perfectly when faced with a scary future.
But I realized an important truth: Although my future won't be as I thought, I still have one. I guess it's easy to forget that. With FA's slow-moving and unpredictable symptoms, I truly have no idea what it will look like. And that's OK.
Though my future seems especially unclear, I'm learning to fully appreciate the time granted to me, the now.
***
"Best week ever," my physical therapist told me as he shut my van door after last week's session. 
Pap!
Even though my best week at physical therapy doesn't seem very impressive, I think what he said was true. I had a good week. I feel a little stronger, a little more capable.
Maybe that doesn't matter in the long run, and I am fighting a losing battle with Friedreich's ataxia.
But for now, a good week is enough.
***
Friedreich's Ataxia News is strictly a news and information website about the disease. It does not provide medical advice, diagnosis or treatment. This content is not intended to be a substitute for professional medical advice, diagnosis, or treatment. Always seek the advice of your physician or another qualified health provider with any questions you may have regarding a medical condition. Never disregard professional medical advice or delay in seeking it because of something you have read on this website.The opinions expressed in this column are not those of Friedreich's Ataxia News or its parent company, BioNews Services, and are intended to spark discussion about issues pertaining to Friedreich's ataxia.