Thanks to Planning and Support, My College Alumni Weekend Was a Success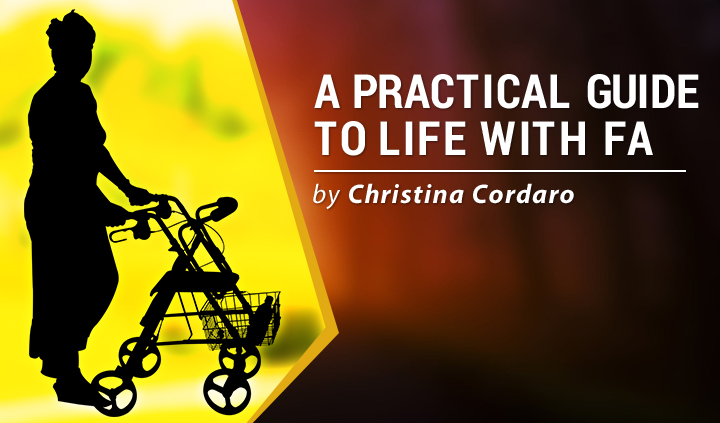 This past weekend, I stepped back in time and visited my alma mater, Johnson & Wales University. I made the trip to attend the Providence Alumni Reunion Weekend with my husband, Justin. The event was in Providence, Rhode Island, about five hours away from our home in Philadelphia.
Because this was my first time back in a familiar city that once was my second home, and the first time I would use my rollator there, a lot of time and consideration was put into planning our trip. However, everything went smoothly and according to the plan, and I would not change a thing about our mini-getaway.
Here are some details that stood out:
Amtrak
I used to take the train from Philadelphia to Providence all the time during holidays or breaks while attending college. I hadn't used the train since I started using my rollator. I have been out of school for seven years. I was a little anxious and apprehensive because I worried that I wouldn't get on and off the train in time at my designated stops, and wondered whether I would find a seat in the ADA section.
I stated when I bought the tickets that I have a disability. Thankfully, the employees on the train were very accommodating and assisted me to an ADA seat and in getting off the train when we reached our destination. I would take the train again because it was nice to sit and relax for five hours, and the accommodations exceeded my expectations.
Hotel
Justin and I stayed at a new boutique hotel in downtown Providence, The Dean. I have wanted to stay there since it opened a few years ago. It was great because this historic hotel is centrally located and walking distance to the heart of everything.
A few days before our trip, I realized I had forgotten to reserve a handicap-accessible room. I like to reserve this room type mostly because I need the ADA features in the bathroom. When I realized I had forgotten, I immediately called to see if there was anything they could do to switch us from a standard room to one that was ADA compliant.
The front desk associate I spoke with was understanding, especially considering that the hotel was fully committed due to alumni weekend. They were able to accommodate my accessibility needs by placing us in a corner room to provide extra space for the rollator and a bathroom that was larger. The bathroom had a roll-in shower with multiple grab bars in the shower and next to the toilet for extra safety and security. Additionally, we were given details of the handicap entrance to the building.
Thank you to The Dean for exceptional hospitality and service.
Events
Because it was alumni weekend, I reconnected with fellow students and professors I had not seen in a few years. In that time, my Friedreich's ataxia has progressed and caused me physical limitations. I was worried about what people would say or how they would act around me because I now use a medical assistance device.
However, I was too quick to judge and wrong about my assumptions. Everyone who attended could not have been more helpful and attentive. I was even asked by the director of alumni events at each event if I needed assistance or what would make me most comfortable.
The best part of the weekend was "Taste of JWU." We tried different featured foods from chefs who had graduated from Johnson & Wales University and now work in well-known restaurants in Providence. This particular event required a lot of walking back and forth. Between traveling from event to event, standing in lines for food and drinks, and simply walking and maneuvering around the crowds, I knew help was always there when I needed it. The JWU Wildcats alumni will always be my second family.
Traveling to major cities and events is becoming less intimidating for me and more enjoyable and attainable. This weekend proved to me that I can still do what I love the most: travel, eat, and drink my way through Providence, reconnect with amazing people, and have fun!
***
Friedreich's Ataxia News is strictly a news and information website about the disease. It does not provide medical advice, diagnosis or treatment. This content is not intended to be a substitute for professional medical advice, diagnosis, or treatment. Always seek the advice of your physician or another qualified health provider with any questions you may have regarding a medical condition. Never disregard professional medical advice or delay in seeking it because of something you have read on this website.