Navigating Social Situations with a Chronic Illness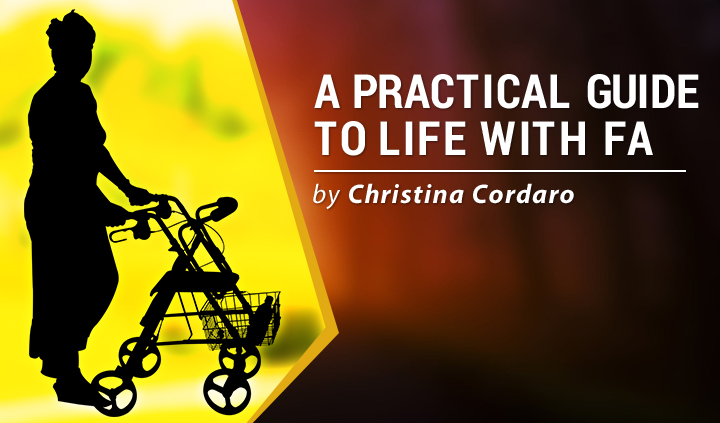 My birthday was last weekend. I was so excited when my best friend, Lizz, and her bridesmaids decided to host Lizz's bachelorette party that weekend. What better way to celebrate my birthday? Her wedding is less than a month away, so this was a great precursor to the best day of her and her fiance Justin's lives! This was the first time I have attended someone else's bachelorette party. I've been invited to others by close friends, but I was always hesitant about attending due to my Friedreich's ataxia (FA) and my anxieties in social situations.
I was unsure about managing my fatigue and being able to keep up with all the weekend festivities. I was also nervous that I would be slowing everyone down with my difficulty walking. Knowing I would be in an unfamiliar location intensified my anxiety. These doubts and insecurities upset me. The only thing I wanted was to be there for my good friend because she deserves nothing but the best, and the bachelorette party is an important part of the wedding celebrations!
This time around, I wanted to change my outlook and be present for my good friend. I thought of multiple ways to prepare for the event both mentally and physically. We would be visiting Lizz and the other girls' alma mater, Penn State University. I had never been there, so I wanted to see where Lizz went to college and visit all her favorite spots.
I knew ahead of time that I was in good hands and good company with Lizz and her closest friends. It put me at ease to know that they were genuinely caring and as understanding of my FA as they could be.
It started with the Airbnb house rental. The girls picked a residence centrally located in the college campus and downtown area. The place also had a bathroom and bedroom on the first level, so I would not have to use the stairs.
They knew which things might be difficult for me. They helped me walk, took Lyft or Uber everywhere we went, and helped me through the busy crowds at bars and nightclubs. All the girls made the weekend seamless and enjoyable. I could not be more grateful for each one of them.
I made sure that I paced myself throughout the weekend. On Friday night, we relaxed, since we had been traveling most of the day. We had a nice dinner out, then turned in early because Saturday would be a long day out.
On Saturday, we ate a nutritious breakfast for energy. At 11 a.m., we headed out to the first bar to start the weekend. The day continued with walking around downtown and bar hopping. I made sure to pace myself, limiting the amount of alcohol I drank, drinking plenty of water, and taking my time walking from place to place. After lunch, we went back to our Airbnb and rested before going out again at night. A shower and a nap helped restore some of my energy.
In the evening, we went to a beer garden and then a club. I took time in between drinks and sat down on the seat of my rollator whenever I could. I only had two drinks all night so I would not become too tired or have difficulty walking. I ended up leaving a little early with a few of the girls to get to bed.
On Sunday morning, we put everything in order before we checked out of the Airbnb. Then we had an easy morning, going into town and having a bite to eat before our three-hour drive home. Lizz told us she'd had the best weekend she could ever ask for, and that is all that matters!
Hearing Lizz say these words made my day, and I was glad I had put aside my doubts and insecurities. Living with a chronic illness is never easy, but it is important to put your trust in good people and know they are there for you. I am fortunate to have been surrounded by amazing women who guided and supported me all weekend long.
***
Friedreich's Ataxia News is strictly a news and information website about the disease. It does not provide medical advice, diagnosis or treatment. This content is not intended to be a substitute for professional medical advice, diagnosis, or treatment. Always seek the advice of your physician or another qualified health provider with any questions you may have regarding a medical condition. Never disregard professional medical advice or delay in seeking it because of something you have read on this website.