Mom's Care and a Little Planning Made for a Fun St. Paddy's Eve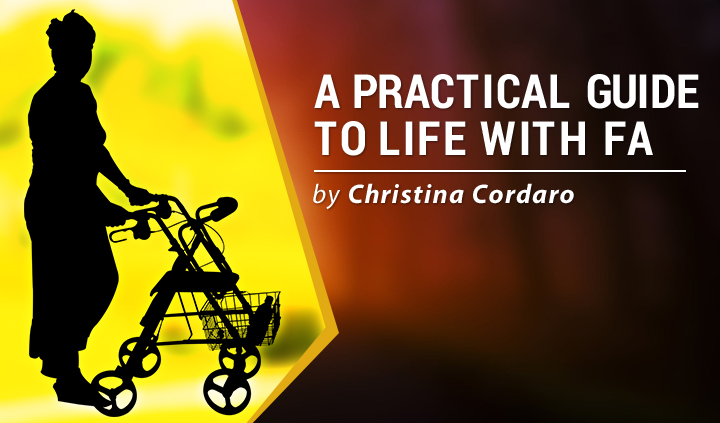 This past weekend was St. Patrick's Day. Almost every bar, restaurant, and establishment had various specials going on all weekend since the holiday fell on a Sunday.
The venue where my husband Justin and I got married, Washington Crossing Inn in Pennsylvania, hosts special events and also acts as a working restaurant and bar. My family, Justin, and I recently went back there for St. Patrick's Day, because one of my best friends, Liz, was playing in her Irish band called Celtic Pride.
Since their gig is well-known in the area, they play multiple events throughout the Irish holiday weekend each year. In addition, St. Patrick's Day is one of the biggest drinking days of the year. Because of these two things, my mom devised measurable actions to take my Friedreich's ataxia and the crowd dynamics into consideration.
Below are two steps my mom planned in advance so the night could be fun and carefree:
Call ahead: Once our family, friends and I all decided that we were going to the event, my mom called Washington Crossing Inn to inquire about making a reservation. She called ahead because we knew the band would be playing in the bar area, and we wanted to get good seats so we could see and be comfortable. They typically do not take assigned-seat reservations for the bar area (it is first come, first served), but because of the circumstances, we were able to reserve a spot.
Learn the layout of the vicinity: Since we knew the location from having had our wedding there, we were fortunate enough to already know how to navigate the place. We had the advantage of knowing where we would be seated, the location of restrooms, etc. Using a rollator in a crowded place can be nerve-wracking because I must maneuver around all the patrons, many of whom have been drinking. However, everyone was accommodating and I knew where things were, making things easier and smoother.
Below are three things that ensured an accommodating and enjoyable night:
Pace myself: I knew it was going to be a long night between going out to dinner with family, enjoying myself during the St. Patrick's Day festivities, and using loads of energy to handle the crowds. I took my time eating and drinking and making my way through the crowds. If I had to get up to the bar or out of my seat to use the restroom, I made sure I took my time and asked a friendly person if I needed help.
Be surrounded by your support system: There were eight of us who attended the event, a group consisting of my immediate family and our close family friends. It truly makes a difference when you go out in public, and people understand your limits and needs. I knew if I needed help with anything, I didn't have to hesitate to ask.
Have fun: I am always hesitant about going out in public, especially when I know there is going be a large number of people. I tend to have anxiety and get worked up because I don't know how I am going to manage the people or react to any derogatory comments said of my disability and use of an assistive medical device. However, I pushed aside my worries and enjoyed myself with the people I love most.
Each of these five plans of action/tips combined to make me feel comfortable in my skin. That comfort is difficult to achieve in public spaces, especially when living with a chronic illness.
I truly appreciate everything my family does to simplify my life and make me feel like I don't stand out in the crowd, not only on that specific night, but always. It all starts with having a fantastic support system. In this case, it was my mom's simple phone call that made the whole night possible. So thank you to my mother. You are the best!
***
Friedreich's Ataxia News is strictly a news and information website about the disease. It does not provide medical advice, diagnosis or treatment. This content is not intended to be a substitute for professional medical advice, diagnosis, or treatment. Always seek the advice of your physician or another qualified health provider with any questions you may have regarding a medical condition. Never disregard professional medical advice or delay in seeking it because of something you have read on this website.