My Parking Placard Is an Essential Tool in My Everyday Life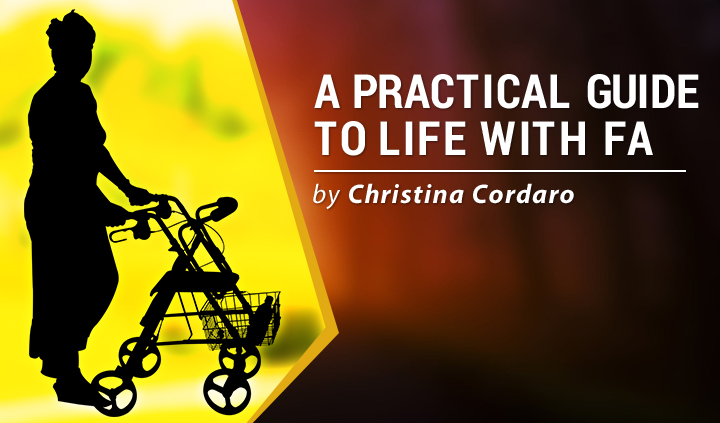 When a person lives with a chronic illness, such as Friedreich's ataxia (FA), they will do anything to find shortcuts and ways to make life's daily activities easier. Taking the shorter walk home or taking breaks between events, for instance, keeps them from feeling fatigued.
After my diagnosis of FA, I applied for a parking placard for people with disabilities. I don't have my driver's license, but whenever I was using a car as my mode of transportation, my driver could utilize the reserved parking spots located directly outside of buildings. Since the progression of my disease is slow and I am still walking, albeit with assistance, this has been very helpful and life-changing.
Over the past seven years of clinically living with FA, I have gone through the transitions of using two different medical assistance devices: a cane and a rollator. Within the first two years of being diagnosed, I noticed that walking was becoming a problem for me, and I would tire easily while trying to keep a steady balance. Therefore, my dad looked into applying for the placard.
The process was simple. All we had to do was log onto our state's department of transportation website and find the
form to apply
for the disability parking placard. My dad filled in the necessary information and mailed the form to the Bureau of Motor Vehicles. Within 18 business days, the placard arrived in the mail. It can be used anywhere; it is not only valid in the state of issue.
Being able to park close to buildings truly made a difference for me. I no longer have to use up my energy walking a long distance, or be dropped off at the entrance of a building and wait while my driver looks for a regular parking spot nearby.
It may vary by state, but the Pennsylvania placard expires after four years. My placard expired recently, and in order to receive a replacement, I went back to the website to get a renewal form. I completed it and sent it out a few weeks ago, and I am still waiting on a new card. This time, it has been a lengthy and frustrating process, and I don't know why.
Not having the disability placard means having to park far away again. Running errands and going different places feels like such a chore now that I sometimes find myself avoiding it. My fatigue only gets worse.
I never realized how much I needed that blue sign with the wheelchair icon to hang from the rearview mirror. At first, I was reluctant to get it because I'd be admitting that FA was taking something else away from me. But now, I can't imagine life without it. This is just another way FA has made me appreciate the little things, such as having the ability to park close to a building.
No matter how far your FA has progressed, I encourage you to get a disability parking placard. It is important not to look at this transition as a sign of weakness, but as getting back your freedom and independence!
***
Friedreich's Ataxia News is strictly a news and information website about the disease. It does not provide medical advice, diagnosis or treatment. This content is not intended to be a substitute for professional medical advice, diagnosis, or treatment. Always seek the advice of your physician or another qualified health provider with any questions you may have regarding a medical condition. Never disregard professional medical advice or delay in seeking it because of something you have read on this website.