A New Year Creates New Opportunities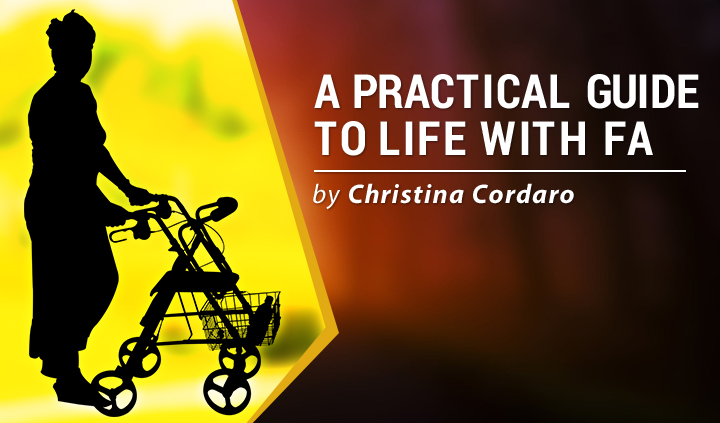 Happy New Year! I hope all my readers had a great holiday with their loved ones and are ready for 2020.
I had three main goals for 2019 regarding the progression of my Friedreich's ataxia (FA): accept help when needed; know that my disease is in control, not me; and continue to be active in the FA community. I am proud to say that I have accomplished all three. I have become more accepting, mature, and confident in myself and my diagnosis.
I no longer view asking for help as a sign of weakness. I have come to terms with the fact that FA is slowly taking control of my body and running its course.
I continue to be active in the FA community in new and alternative ways. I even worked with Reata Pharmaceuticals, a company that's developing what could become the first approved targeted treatment for FA, by participating in their new podcast series for patients and caregivers called "FA Talks."
I have grown while achieving these three objectives. I have also learned that I cannot change my situation instantly. However, I can change my direction, even if it takes an entire year. Small changes in direction lead to big health changes in my destination.
With this mindset, I have come up with three resolutions for 2020.
Don't dwell on the negative
Living as a young, disabled woman in a major city has its ups and downs. One positive is the city's accessibility, as I can live a full and independent life because of it. The opportunities due to greater acceptance of disability here make it all worthwhile.
One negative is the attitude of some members of the public. I need to grow "thicker skin" and come to terms with the fact that not everyone accepts disability. Not everyone will try to understand what I am going through, even after I explain my situation in relation to FA.
I need to learn to be less affected by people's rude comments. I know I am a good person and do not deserve this type of negativity in my life.
It's OK to say no
As my symptoms slowly progress, I have noticed that fatigue is my biggest battle. I can relate to a a column titled "When You're 'Too Functional' to Be Chronically Ill, but Too Sick to Be Healthy." I overwork myself and try to overcompensate for my inability to do things like everyone else. I believe this is why I am exhausted.
I am lucky I can work full-time, even with FA. I also am lucky I can do many of the things I want to do with my family and friends. However, I am constantly frustrated by trying to live in a "healthy person's" world, knowing that I don't function the same as everyone else.
Living with an invisible disease means that to keep up with people who don't always understand me, I continually adapt. I need to learn to say no or to cancel plans if I cannot keep up or need to take care of my body and self.
Appreciate the little things
My FA is progressing faster, which is difficult for me. I am stubborn, and it's hard for me to let go of my independence. My physical struggles are easily recognized. Loved ones, and even strangers, tend to ask if I would like their help. I need to let my stubbornness go and be thankful for the assistance, because not everyone will be willing to help.
I know that everyone who lives with FA reacts differently to the disease and has their own goals, both mental and physical. We all experience various challenges, obstacles, and transitions. However, I hope these three aspirations shed some light and inspire you to incorporate them into your daily lives!
Let's raise a glass to 2020 in hopes of another year filled with good health and happiness!
***
Friedreich's Ataxia News is strictly a news and information website about the disease. It does not provide medical advice, diagnosis or treatment. This content is not intended to be a substitute for professional medical advice, diagnosis, or treatment. Always seek the advice of your physician or another qualified health provider with any questions you may have regarding a medical condition. Never disregard professional medical advice or delay in seeking it because of something you have read on this website.