Along with Celebrating My Birthday, I'm Also Planning for My Future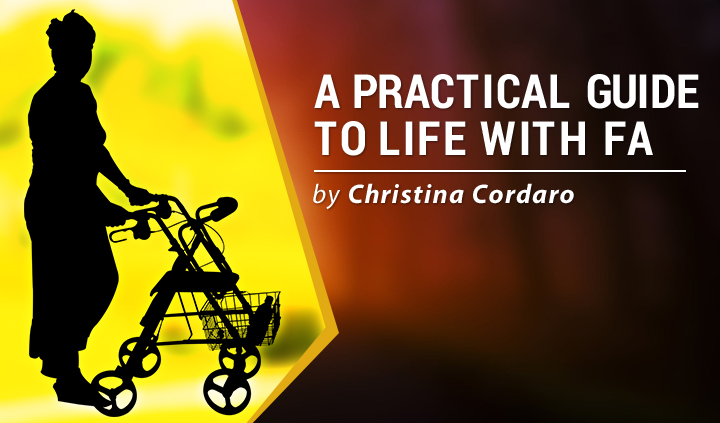 August is coming to an end. This is always my favorite time of year because my birthday rapidly approaches. To me, fall indicates a fresh start and signals new beginnings to look forward to.
Tomorrow, Aug. 24, I will be turning 29 years old. It's scary to think this is the last year of my 20s! Last year, in my column, "My Favorite Age Is Now," I expressed that, when a birthday passes, I like to reflect on what I can still do, despite my disability. Even though I do things differently than most people, I still feel a sense of accomplishment, especially when it comes to adjusting to my rollator. I have my husband, Justin, to thank for encouraging me and being my biggest supporter throughout the entire process.
Over the past year, my family and I have noticed that my Friedreich's ataxia (FA) has taken a turn for the worst. It's getting more difficult to walk and I become fatigued more easily. Also, I have been using a wheelchair in public places, such as during family vacations on the shore, at baseball and football games, and in museums.
With these major changes, Justin and I have been talking more about the future. This October will be our first anniversary as a married couple! We have had discussions in the past about modifications and adaptations that we may need down the road, but now that my FA is progressing faster than expected, we sat down one day and looked at the reality of my diagnosis. We have created a timeline of actions that we will need to take.
I always try to live "in the now" and be positive because life is too short and it's important to be grateful for whatever tomorrow might bring. I never used to like thinking about what the future might hold, especially with FA, because it was hard to accept. But thanks to my amazing support system of family and friends, I have decided that it is OK to accept a birthday as a victory, and it is OK to plan for what might come.
Below are three changes that Justin and I have considered:
Investing in a wheelchair: I wouldn't use it all the time but it would put our minds at ease to know it is there when we need it. Ambulatory FA patients may still use a wheelchair to save energy and reduce the chance of fatigue. A wheelchair will be beneficial for day trips and weekend getaways. We'll also have one if I ever need to start using a wheelchair on a regular basis.
Looking into an accessible home: Right now, Justin and I live in Philadelphia in a one-bedroom apartment. Thankfully, the apartment is one level and the building has elevator access. We live in such a great area, with arts, culture, history, and amazing restaurants. We plan to live here a few more years so we can enjoy what the city has to offer and save money for a house, but eventually, we want to move to the suburbs so we can be close to family and the city. Our dream is to find a beautiful, ranch-style home that is compliant with the Americans with Disabilities Act both inside and out.
Buying a bigger car: Once we move to the suburbs, Justin wants to get an SUV-type car. That way, we can travel to places with my wheelchair, and possibly even my Catrike Villager. Right now, though, we get by just fine transporting the rollator wherever we go.
Birthdays are something to celebrate! It should not be another day to dwell on FA, but instead should be a time to reflect and be grateful. I know I am grateful for every good person and thing I have in my life. Just because my future plans may be different than others doesn't mean I should not be living life to the fullest each and every year!
***
Friedreich's Ataxia News is strictly a news and information website about the disease. It does not provide medical advice, diagnosis or treatment. This content is not intended to be a substitute for professional medical advice, diagnosis, or treatment. Always seek the advice of your physician or another qualified health provider with any questions you may have regarding a medical condition. Never disregard professional medical advice or delay in seeking it because of something you have read on this website.