Accessibility Items Make the Best Birthday Gifts for Those with Disabilities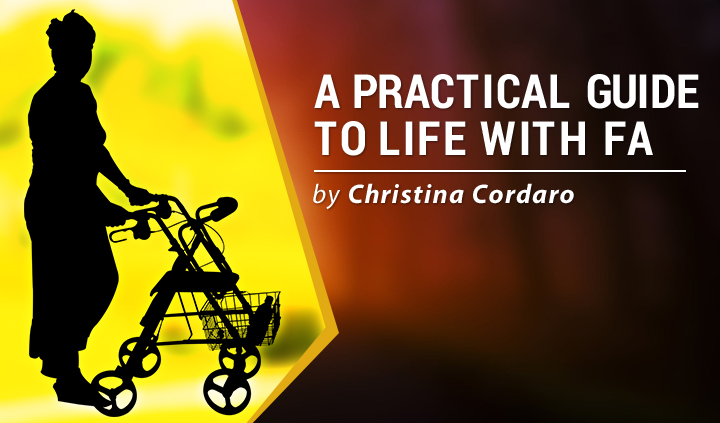 I celebrated my birthday Aug. 24. I wrote in my recent column about the importance of looking forward with a positive attitude despite my diagnosis of Friedreich's ataxia (FA). Because my FA is progressing faster than my family or I had expected, I have learned to accept that I will need modifications and adaptations sooner rather than later. I have also recognized that it is OK to ask for things that will help with my accessibility needs.
Two years ago, my husband, Justin, gave me Vans sneakers because my physical therapist advised me to invest in footwear that would help with my balance while walking. She suggested the brand because the shoes, which were designed for skateboarders, have a thick, flat sole and provide comfort while being light, flexible, and breathable. Vans has a variety of styles to satisfy myriad fashion tastes, which is important for a young woman.
This year when Justin asked me what I would like for my birthday, I told him that a backpack would help me when I am out and about in the city. He knows that I like the designer brand Kate Spade New York, so he bought me a black nylon bag from the range. Carrying a backpack rather than a handbag allows me to be more alert and keep my hands free while walking with a rollator.
On Labor Day weekend, Justin and I decided to visit Philadelphia's Independence Seaport Museum for the first time. We planned to continue to Spruce Street Harbor Park afterward to watch the fireworks, as both attractions are in the same vicinity. The museum is on the waterfront; visitors can go aboard a former U.S. Navy ship and a submarine. The USS Olympia was launched in 1892, and though it still has its original features, I was able to maneuver myself and my rollator around the ship without any issues.
After our trip, I thought about how something as simple as using a backpack in my daily life has made a big difference to me. Then, I started to think of other gifts that could be useful for people with FA and other diseases.
Following are my five gift ideas for someone living with FA:
1. Metal straw: As most restaurants are getting rid of plastic straws, a metal straw is an alternative for those who have difficulty swallowing liquids. Metal straws help to keep drinks cold and are easy to carry around while out in public places.
2. Cup holder for a mobility aid: A cup holder for a rollator or wheelchair is a useful accessory as it fixes to your mobility device and keeps your drink level to prevent it spilling when you're on the move.
3. Adaptive clothing: Fashion brand Tommy Hilfiger has an adaptive clothing line for children and adults with disabilities. Products in the range have Velcro or snaps instead of zippers and buttons to make dressing easier. You can't tell that these clothes are adaptive because they look similar to items in the main range.
4. Adaptive footwear: Sportswear brand Nike has designed two types of sneakers to help wearers of all ages and abilities get their shoes on and off more easily. FlyEase has an adjustable strap with a wraparound zipper that allows shoes to be put on and taken off in one motion. Nike's HyperAdapt adjusts to your foot and tightens the laces to fit. I could wear these on the way to work, which would save me time getting ready in the morning.
5. Adaptive utensils: Modified flatware provides independent dining options for adults and children who struggle with fine motor skills and hand-to-mouth feeding. Grip aids can be useful for holding utensils.
My recommendations are based on my knowledge that these items have helped others with FA. Why not invest in something that makes our lives easier?
***
Friedreich's Ataxia News is strictly a news and information website about the disease. It does not provide medical advice, diagnosis or treatment. This content is not intended to be a substitute for professional medical advice, diagnosis, or treatment. Always seek the advice of your physician or another qualified health provider with any questions you may have regarding a medical condition. Never disregard professional medical advice or delay in seeking it because of something you have read on this website.